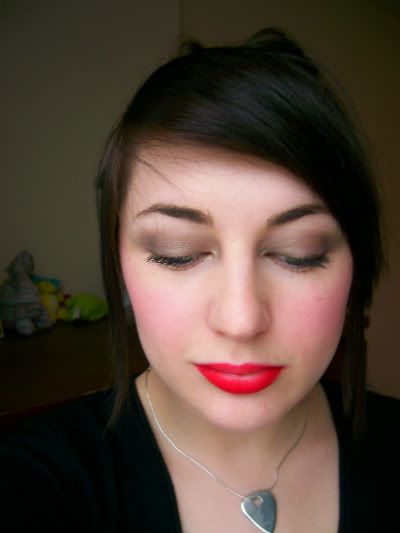 1. Accessorize Merged Blusher in Starlet:
These captured my heart and we've been doing a kind of flirtatious Pasodoble for weeks. Weeks! Aren't they just reminiscent of something quite expensive and quite coveted? These little mineralized interlopers are new players in a seldom tapped market, and Accessorize have actually produced little pots of wonder here in a reiteration of a best-selling MAC classic. The blushes are buttery (in a perfectly I can't believe it's not! way), blend like a charm and as pigmented as their costly counterparts.
Starlet is the shade I homed in on like an only slightly dangerous missile (dangerous purely to cosmetics and my bank balance) and with good reason: it reminded me of MAC's Mineralized Blush in Daft Pink. In reality, it's a cooler, less frosty and more budget-friendly iteration. It applies the same, feels the same and costs a third of the price.
Accessorize Starlet vs. MAC Daft Pink.
2. MAC Lipstick in Ruby Woo:
A little innocent back-to-MAC excursion ended in a sultry, waspish pout which reminds me simultaneously of both the colour of something deadly, and the colour of Hollywood. It commands attention and respect, and stalks about in spike heels, defiant-eyed and impatient; and this is how I feel when I step out of the house in this lipstick. I walk taller, strut better and feel like a pleasing mixture of 40's housewife-turned-cellblock tango. Pretty, yet dangerous.
3. Black bases with a gold eyeshadow:
But sadly it turned out barely there in the photo; the vanishing man. Recipe for smutty, smudgy eyes with a little glimmer: take one black cream shadow/liner and smudge all over the lid in a haphazard fashion. Blend edges, and pat a gold eyeshadow lightly over the top. Easy, as it turns out. Black + gold = a simple and beautiful equation. One day I'll show you with pictures where appropriate, when you're older.